Chunky Glasses R not cool.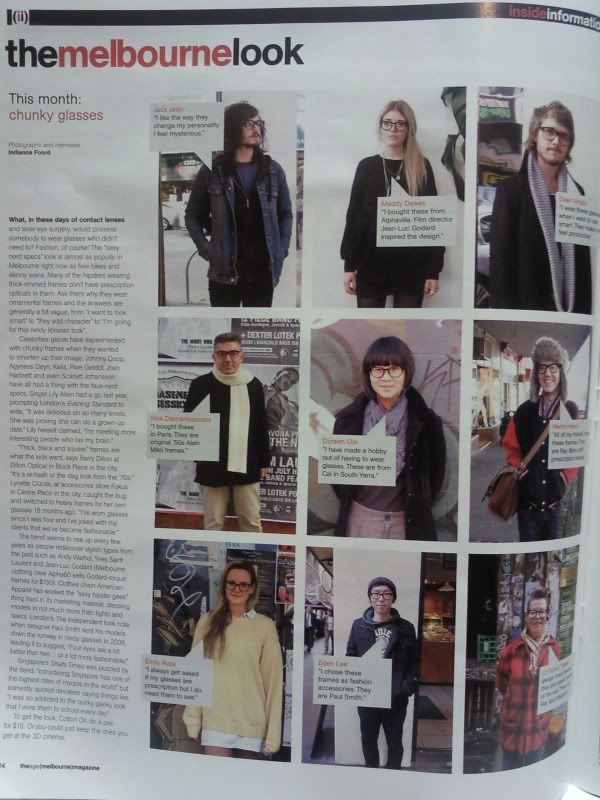 According to the Melbourne Magazine from The Age (which, by the way, I enjoyed very very much - refer to twitter-), adding chunky glasses to your accessory list is infinetly hip. Prescription or not.
Channelling you inner nerd first came out in the early 2000s and has reigned (in the background at least) for most of the naughties. I remeber when The Straits Times first had a feature in thick framed glasses when I was about 11.
Being four-eyed 65% of my life, I've always secretly thought that non prescription frames were very lame and pretty uncool. I'm sure all of you have at least one friend who walks around with 'fake' glasses some of which would have no lenses in the frames what-so-ever. Its like wearing sunglasses at night or inside a shopping center. I guess some credit can be given to those so spend hundreds of dollars on nice fake glasses.
Maybe I developed one of those jealousy issues that a lot of other 'hardcore' people have with fake personalities; I am the original glasses-wearer! I've been cool since I was 7! ( I remember the night before I got my glasses. I was very very very excited. My mom on the other hand, was pretty worried for my weak eyes.)
But once again fashion has overpowered practicality and it is now socially acceptable to me to wear glasses with no preseciption in them. Good thing the no-lense-frames didn't really take off.
Also, other than not being able to come up with a good segue to this paragraph, I have decided that its not as cool if the Asians are wearing glasses unless their frames are incredibly amazing. I mean seriously, coming for a country with one of the highest myopia statictic in the world, glasses are expected. The people with 20/20 vision in Singapore are the weird ones...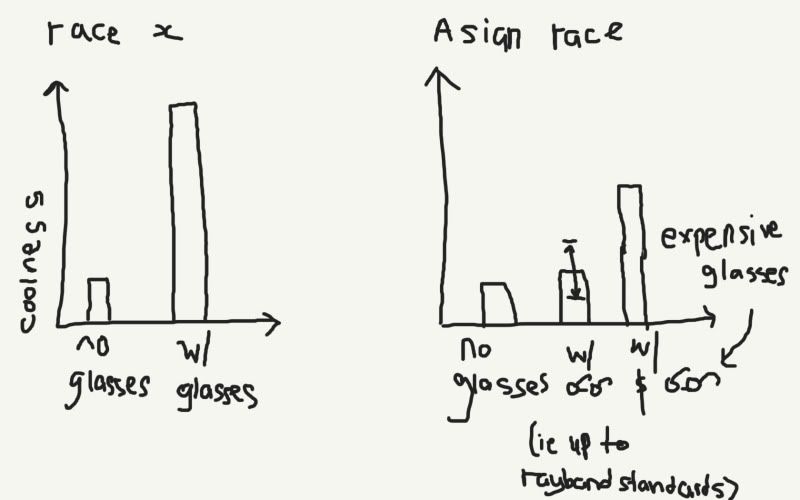 Here's a graph representing the coolness factor increase when wearing different types of glasses.
Race x (any other race but Asians) undergoes a massive increase when they put on a good pair of glasses (any glasses that are deemed trendy by whoever it is that approves trends). But when the Asain (with all the same factors like gender, height, clique and everything else) dons the same pair of glasses the increase is slight.
When the Asian puts on a really overpriced and extremely cool pair of glasses the increase is larger but it still doesn't cut it.
Haha. Okay obviously, this is just a blind, exaggerated generalisation and should not be taken into any serious consideration at all. I'm about 52267% sure that someone can prove me wrong. Even I can prove myself wrong. Also, I'm allowed to make fun of Asian people because I'm Asian.
okay enough banter already. I like glasses and I'm glad that wearing glasses are more cool than not in my generation.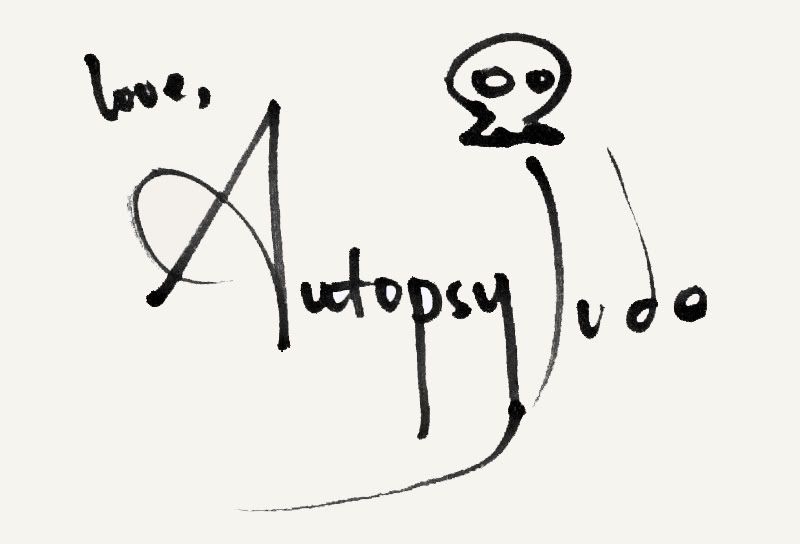 Labels: Fashion, Woolgatherings