Strange dreams
Last night I dreamt that was trapped by a gang leader who brought us to his gang house by boat. I had some unknown aquaintences, one of which was my mother.
As we approached the gang house; a many layered house on stilts in the water, we decided we had to escape. There was no way out from the boat except to jump into the sea, so my mother pushed me off portside. For some reason, no one noticed I was in the water, and I managed to grab hold of a bucket that had a knife to cut the ropes of the boat. I swam to the back of the house and climbed all the way up to the roof.
Still no one had seen me.
On the roof, I sat tight against a bathroom window. There was clearly someone inside who heard me. The person took a while to investigate and judging from her voice, I wagered she was an elderly woman.
When she saw me at the window she screamed someone's name but I stuck my hand in and sliced her neck. I didn't know how to go about killing people so the kill wasn't very neat. The cuts were angled and everywhere. It did the job though.
I climbed through the window and walked out the bathroom, turned to my right, and saw someone coming along the hallway. I still had the knife in my hand and he wasn't that far off when he noticed my presence so I stabbed his neck, multiple times, like little bullet holes. He didn't die straight away, but stumbled to his room and curled up in bed. His twin brother came up the stairs and by now I was getting the hang of it so I made a clean stroke across his throat. It felt like slicing a piece of leather. He didn't really know what hit him so he stumbled into bed as well, with his brother.
I walked down the stairs with the knife behind my back. I could feel the sharpness with my ungraceful way of handling it. I heard a girl's voice coming from a loft on that floor. The loft was covered with black orgazna and I could see an asian girl with long black hair who owned too many cute but useless things. She had her back towards me so I snuck up behind her and with a quick swipe, she collpased. She hadn;t died yet (I should have gotten the hang of it by now you'd think) and when her father/uncle called out to her, she still could answer, albeit a short one. Afterwhich, she snuck back into her loft and laid there.
Soon enough the gang leader (or whatever ou call him) realised something was amiss and had some investigators come in. But by then, my aquaintences and I had practially killed off most of his family/inhabitants of the house.
The next thing I know, I was still holding the knife, hands covered in blood, and some one was questioning me about my situation. I told them that I saw the killer who and dropped the knife and I had merely picked it up.
Which brings me to the end of my very bodyless dream. No plot whatsoever.
I think I've been reading too much
Fortean Times
What are some of your wierdest dreams?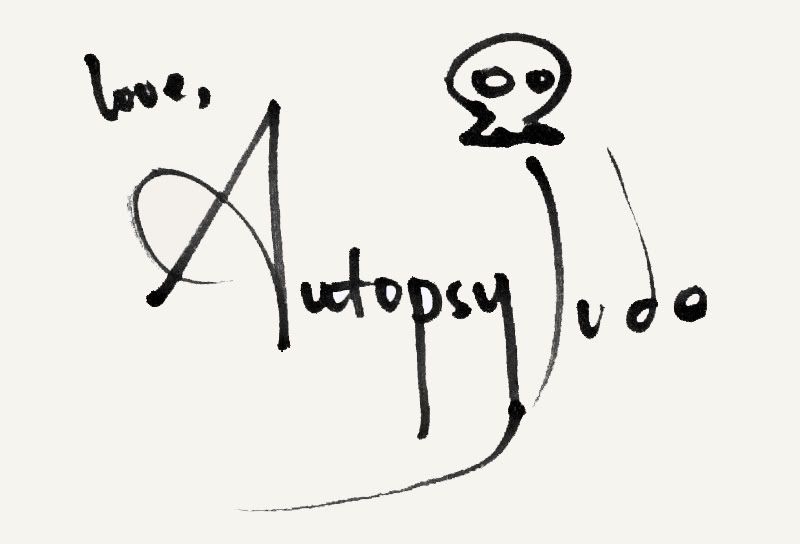 Labels: Woolgatherings